Cherry Bloom Homes & Designs is the ideal resource for new homes in Ellijay, Georgia. We are driven by a sincere passion for architecture and design, and as long-term locals, we understand exactly how to build homes that match the gorgeous natural backdrop. Our owner Karla Payne Abercrombie and her team are always hard at work building new dream homes, and we invite you to live that dream alongside of us.
People who understand this area are well aware of the fact that Ellijay is one of the most beautiful places in the state of Georgia. One of these individuals is former president Jimmy Carter, who owns a cabin in town. It is the county seat of Gilmer County, and it is the perfect place to grow apples and other agricultural staples. In fact, the city is known as the "Apple Capital of Georgia," and locals and visitors alike enjoy the annual festival that celebrates the harvest season every October.
If you enjoy outdoor recreational opportunities, Ellijay is certainly your kind of place. The Cartecay River meets the Ellijay River in our town, and the two combine to create the Coosawattee, so it is an angler's paradise. Of course, there are also many fantastic places to hike and hunt during the designated seasons, and the weather is usually quite accommodating.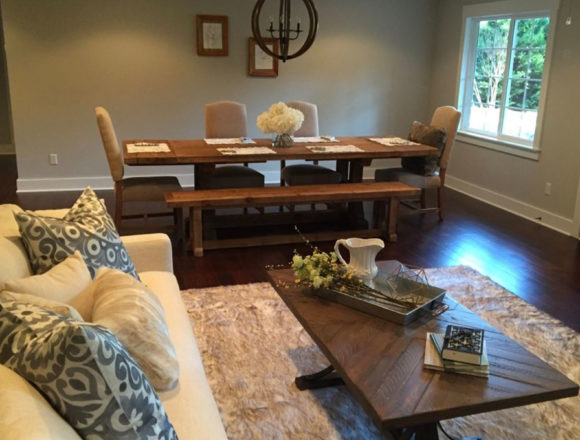 The Willows
The Willows is a subdivision that we have been developing, and at the present time it includes The Rustic Ranch, The Industrial Farm House, and The Classy Cottage. The European Farm House is on the way, and you can click the following link to take a close look at these examples of our workmanship: New Homes for Sale in Ellijay, Georgia.
Call or Click Today!
In addition to the new homes that we build as we continue to develop in a sustainable fashion, we offer a number of other services. Our team can remodel existing homes, and once again, our knowledge of the local architecture is invaluable. Interior design is another area of expertise for us, and we can be engaged by home sellers and realtors that are looking for a top quality staging resource.
If you would like to discuss homes for sale in Ellijay or any of our other services with us, you can send us a message through our contact page or give us a call at 706-273-8507.