Home Décor in Hickory Flat, Ball Ground, Ellijay, Blue Ridge, GA, and Surrounding North Georgia Areas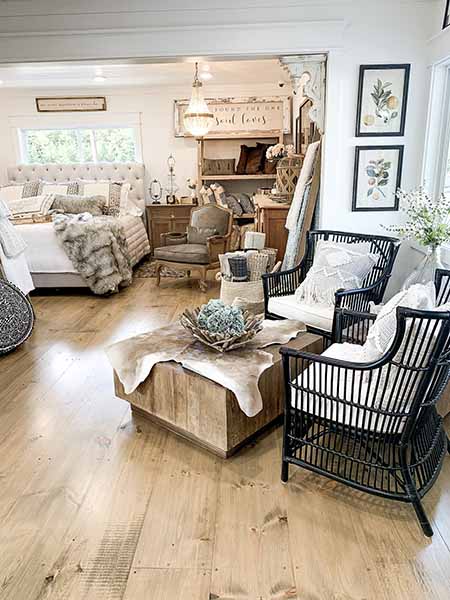 Karla's goal in home décor is to add charm without over-styling. She does this by pulling unique pieces available at her store, Cherry Bloom Homes Décor & Furniture Store in Ellijay. Karla's store serves as a design center and showroom for pieces she has acquired through travels to Texas, the low country and European dealers. She also is ready to show you the thousands of other items available through special relationships with vendors around the world.
Home furniture can often work for many different styles. A white couch could be used in farmhouse or lux. An antique table works for shabby chic and French country. But when you start to add the accent pieces and other home décor, the style becomes more defined. The pattern of rug that anchors a room. The color of the throw pillows in accent colors. The Cherry Bloom Homes Décor & Furniture Store in Ellijay not only carries the unique pieces that define your spaces' style, but also reflects your individuality.
Karla loves to help clients select the home décor that will compliment their style and add personality and flair. Many of the pieces both on the 1500 sq ft showroom, as well as in the 10,000 sq ft warehouse, are a mix of old-world southern charm and mountain life. These pieces and home décor bring the rustic looks that have become classics and mix with a modern feel for today's lifestyles.
Visit Us!
We are open to the Public from Thursday through Saturday from 10:00 am to 6:00 pm.
We are opened to our clients every day by appointment.
Furniture Store for Home Décor and Custom Furniture
When you walk into Cherry Bloom Homes Décor & Furniture Store, you'll immediately see the collection of European antique furniture, modern home furnishings, custom furniture, and farmhouse décor with an elegant rustic flair. These pieces can be purchased separately or in a custom packages to pull together and furnish your room.
The upper level is dedicated to one-to-one custom design. Karla and her team can meet with clients to discuss home finishes and custom pieces. Bring the pictures you've collected or pinned, or come with an open mind and let Karla work her magic. You're not limited just what is available in the store. Karla has thousands of items at her fingertips to order if you are needing a specific item or look.
Available home décor items:

Bed linens
Area rugs
Lamps
Media storage
Fireplaces & accessories
Decorative accents
Pillows & throws
Mirrors
Wall décor
Window treatments
Clocks
Storage
Vases
Bowls and trays
Drinkware
Serving items
Dinnerware
Candles and candle holders
Outdoor accents
Outdoor furniture
North Georgia Furniture Store
Karla will be available by appointment for a free consultation to help you make the perfect selections from her store floor. If coming from outside the local area (Hickory Flat, Ball Ground, Ellijay, Blue Ridge, GA, and Surrounding North Georgia Areas) please be sure to call Karla so she can make sure herself or one of her team members can great you with some sweet tea and give you a tour of the store. Of course, we always like to meet our local neighbors too!
Karla's goal is to make building, furnishing, decorating, and designing your home to be a fun and easy experience. Come into our furniture store and let the Southern Hospitality and always fresh sweet tea make you want to never leave our fun and never stuffy environment.