If you are searching for new homes for sale in Blue Ridge, Georgia, you have found the right place. Our company, Cherry Bloom Homes & Designs, is having a major impact in this area with the original new homes that we are constructing, and we are just starting to hit our stride.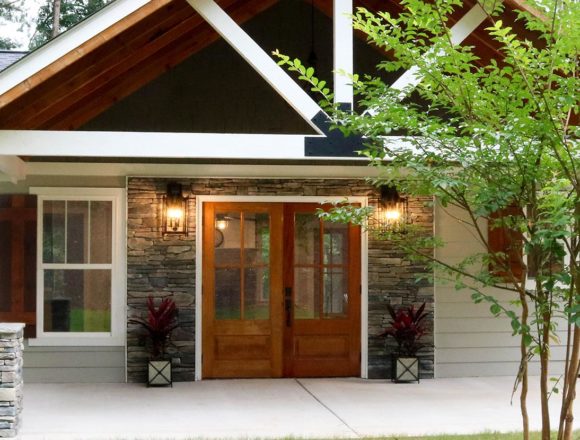 This city holds a special place in Fannin County as the county seat, and it is a rich repository of history. Native Americans from the Cherokee tribe once called the area home, and newcomers started settling in around the turn of the 19th century. It is a place of magnificent natural beauty, and this is one of the major reasons why we decided to develop new homes for sale in Blue Ridge, GA.
With us, these new local construction projects are labors of love, because our owner Karla Payne Abercrombie has always had an extraordinary level of passion for architecture and design work. Since she has lived in this area for decades, she has a thorough understanding of the architectural flavors that will maximize the natural backdrops.
Karla has a unique ability to juxtapose modern amenities alongside classic themes, and the results are magnificent. If you connect with us, you can rest assured that we will bring your dream home to life in the extraordinary North Georgia mountains.
Custom Built Homes
You will not find a better resource for new homes for sale in Blue Ridge, Georgia, but our offerings do not stop there. There are older homes in this area that have a great deal of untapped potential. We would be more than glad to step up to the plate to provide assistance if you are interested in rehabilitating a historic piece of property.
Plus, if you are living in a home that could use a freshening and some professional interior design assistance, look no further than Cherry Bloom Homes & Designs. We also provide home staging assistance for realtors and people that are selling homes in and around Fannin County.
Contact Cherry Bloom Homes & Designs!
As we have stated, we are locals through and through. We view ourselves as people with certain talents helping our neighbors and future neighbors enjoy the lifestyle that we love so much. If you would like to discuss new homes in Blue Ridge, Georgia with us, we can be reached by phone at 706-273-8507, and you can alternatively send us a message through our contact page.