Custom Home Builders & Custom Built Homes in Blue Ridge and Ellijay, GA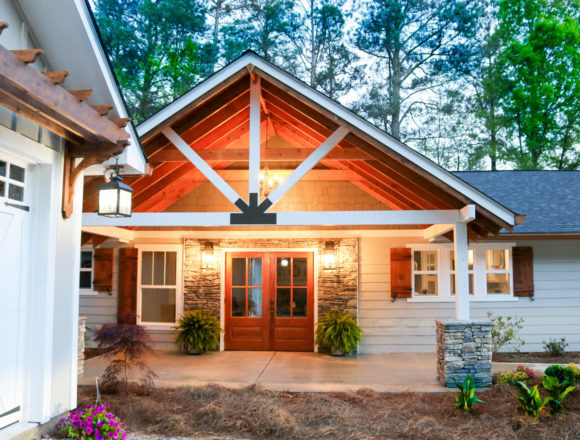 You are in the right place if you are looking for a custom-built home in Ellijay or Blue Ridge, Georgia. Our company, Cherry Bloom Homes & Designs, has built a reputation as one of the leading custom home builders in this area. We are a locally owned and operated business, and our creative visionary is Karla Payne Abercrombie. She has a deep architectural design education, and she demonstrated her formidable design and build talents when she started her own company at the age of 19.
Since she has lived in this beautiful mountain area for so many decades, she has a thorough understanding of the architectural flavor that fits into the landscape perfectly. When you choose the Ellijay-Blue Ridge custom home builders here at Cherry Bloom Homes & Designs, you can rest assured that your custom built home will be a dream come true.
People have different tastes, so when we embark on a custom building project for a client, we gain a thorough understanding of their vision for their brand new mountain home. Of course, we offer suggestions when inspiration is needed, and we ultimately custom-craft the ideal design. We also know exactly where to source all of the materials to create the appropriate warmth and character.
As they say, a picture is worth 1000 words. We have a project gallery right here on our website, and you can gain a firm understanding of our capabilities if you take a moment to look at the photographs. If you like what you see, your home could potentially be the next one that is added to our gallery.
In addition to the custom-built homes that we create from the ground up, we can be called upon to renovate or remodel your existing home. Plus, if you have purchased a fixer-upper as a value seeker or investor, we can put our creative abilities to work for you and transform the property into an authentic showplace.
Contact Cherry Bloom Homes & Designs Today!
Simply put, you are not going to find more passionate, talented custom home builders in Blue Ridge or Ellijay, Georgia. We genuinely enjoy working with our neighbors here, and our doors are open if you would like to discuss a custom-built home with us. You can get touch by phone at 706-273-8507, and you can alternatively send us a message through the contact form on this website.