New Construction Homes for Sale in Ellijay, GA, Blue Ridge, and Surrounding Areas
For new construction homes in Ellijay and new build homes in Blue Ridge, Georgia, you can't go wrong with Cherry Bloom Homes & designs. The owner of our company is Karla Payne Abercrombie, and when you understand her background, you can see why she is the right choice for new construction homes.
Karla studied architectural design is a young person because this was her passion. She built 12 rental properties when she was just 19 years of age, but shortly thereafter, she put her ability to produce new construction homes on the back burner. Her parents owned a well-known local insurance agency, and she and her husband went to work there. They eventually purchased the agency, and she made the decision to create new build homes once again in 2010.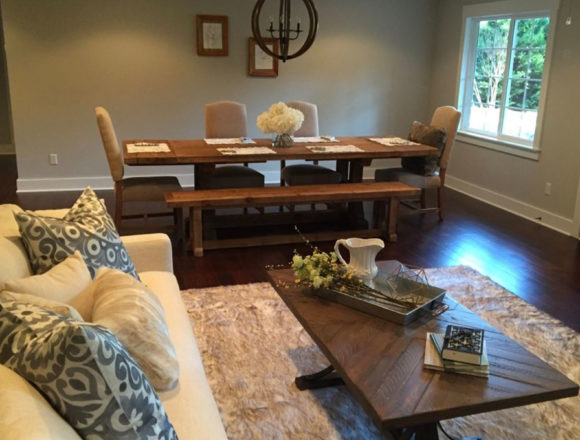 Since she has such a deep background in this particular area, she has a great deal of knowledge with regarding the local architectural flavor. It takes a particular brand of expertise to put new construction homes for sale in Ellijay and Blue Ridge, because there are certain styles that fit the landscape appropriately. Our finished creations speak louder than words, and you can check out our gallery page to see many pictures of our new construction homes.
In addition to the new build homes that we offer in Blue Ridge and Ellijay, we can also be called upon to for renovations and remodeling. We would be more than glad to examine your existing place of residence and explain how it could be transformed into a dream home. It is exciting to rejuvenate older homes and fixer-uppers, and you will be amazed by the transformation if you engage us to complete one of these projects.
Contact Cherry Bloom Homes & Designs!
When you work with us, you will get the type of treatment that we like to receive when we engage a service provider. After all, we live in a tightly knit area, and we are all neighbors helping one another in whatever ways we can. This is a sincere statement, but you can visit our testimonials page to see what objective people have to say about our work.
If you would like to speak with us about remodeling, renovations, or new construction homes in Ellijay or Blue Ridge, we can be reached by phone at 706-273-8507. We also have a contact form this website that you can use to send us a message.