Karla's Custom Home Builders and New Construction Homes in Blue Ridge, Ellijay, Ball Ground, Hickory Flat, GA, and Surrounding North Georgia Areas
Why Cherry Bloom Homes & Designs?
Have you ever dreamed of building a home and working with someone that took all the stress off of you, had great attention to detail, and would ALWAYS do exactly what they say they will do? This is exactly what Karla strives to offer. All you have to do is enjoy the process!
Cherry Blooms Homes and Designs has the goal of building homes full of character. All of the homes are always built with true craftsmanship and never prefabricated items. Karla has partnered with multiple companies and wholesalers so that she can offer high-end options without the high cost. As all of the projects are a labor of love the people that she works with has the same passion and are always very proud of the product in which we offer. Karla's family is very supportive as well as they know that this is her passion.
Custom Home Builders
Karla has multiple custom home plans already available that she has created to give you your perfect space. She also offers the ability to sketch and create the house plan and layout that is perfect for you and your family. The idea is to build the character in from the beginning and with small tweaks and a lot of thought you can achieve the unique space that utilizes every square foot to give you a home that is truly one of a kind and functions seamlessly to make each day of your life go a little smoother so you can enjoy what matters most with your family.

New Homes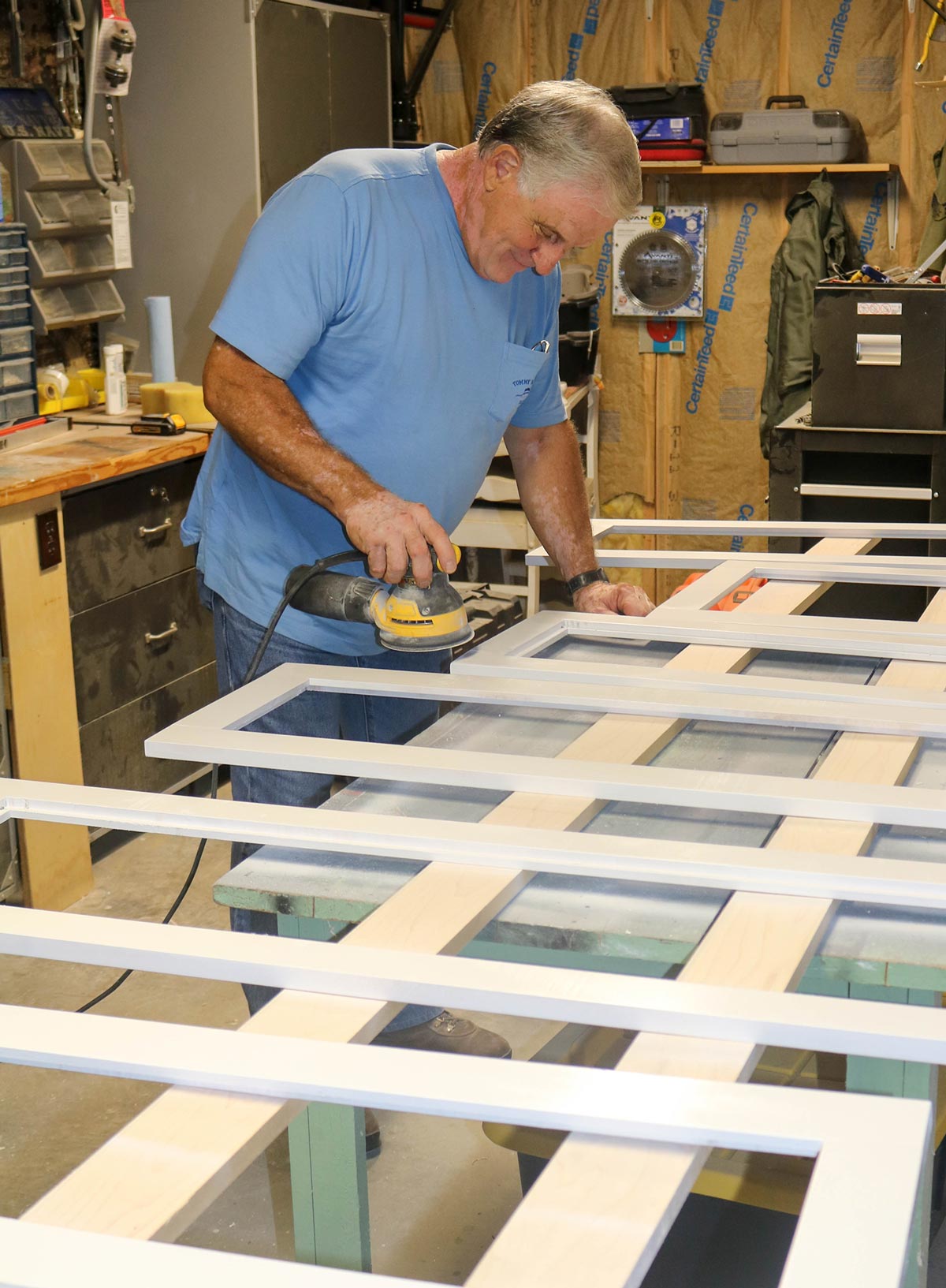 Karla is currently scheduling new construction custom builds. Karla's commitment to quality and unique character to her homes is top notch and she will offer all of her resources to each project and each client. Cherry Bloom's goal is to give you a one of kind experience and Karla gives her full attention to make the dream of building your home have the least amount of stress as possible and a moment in your life that you will always remember.
Her husband, Scotty Abercrombie, lends a helping hand when there are days that she calls on him to help her accomplish the overabundance of the day's task and he can be seen helping to run the equipment while grading for the home sites. Her father, Karl Payne, which Karla has worked with on all her projects over the years is always there to offer a helping hand. Many years ago, he built furniture as a hobby and his craftsman skills were a great asset. Karl and Scotty build shutters, custom barn doors, and solid wood glass cabinet doors. All of Karla's family at some point lend a helping hand to help Karla achieve her passion. Her mom, Lorraine, sister Regina, and her nephew Cameron are all there to help in any way they can. When you buy a Cherry Bloom Home, you are buying a home from families that worked on the project with great pride and excitement for the future homeowners.
Cherry Bloom Homes and Designs is proud to have what they feel are some of the best subs in the business working on their projects, whether it is the trim carpenters, the tile artist, rock and brick masons, or the mechanical subs. Karla feels that every one on her team takes their job seriously and she can trust that with or without her they all try to do their best and want a great outcome, taking great pride in their work.
The Design Process
Cherry Bloom Homes feels that every single aspect of building a home should all be considered from the beginning. We offer a true turn-key experience. The layout of the home will consider what your life will look like in the home; do you entertain? how do you use your kitchen? do you have children and need fun additions for them? is this the home you are retiring in and need a stairless entry and all one level? These are all choices and decisions that Karla will personally help you work thru. Our homes are already stunning when they are empty, but allow us to take it over the top with furnishings and décor. Then place the cherry on top with a stunning yet practical landscaping package. Karla views each home as a masterpiece and she enjoys being part of every aspect of completion.



Consultation
Your custom home is designed and built just for you. Let's make sure it is perfect. We want to know everything you are looking for in your new build. What is the size you are looking for? How long will you stay in your home and will your needs evolve? Is this going to be your primary residence? Bring your list and don't hold back.

Design
Now let's design your dream home. We'll create a custom home design that maximizes every space with flow and rooms to live and relax. Your design will not only work for you now but also as long as you live there. We specialize in character, function, and style that will make you smile every time you step through the door.

Construction
We take the stress out of new construction. Karla is a licensed contractor and experienced new home builder. She is your home's connection to local craftsmen, quality manufacturers, and every other aspect that goes into building your new home. You can be sure that Karla takes pride in every detail from start to finish.

Decorator
As a designer and decorator, Karla brings style to your home. Bringing together different elements can be difficult. Luckily, Karla is an expert incorporating unique and stylish pieces that work together. Visit the Design Center Store to get Southern Mountain charm for your new construction or existing home. Special orders available.

Why Cherry Bloom Homes & Designs?
Have you ever dreamed of building a home and working with someone that took all the stress off of you, had great attention to detail, and would ALWAYS do exactly what they say they will do? This is exactly what Karla strives to offer. All you have to do is enjoy the process! Her building experience spans over the past 20 years, but it wasn't until the past 5 years that she realized her raw talent and strong passion for building & designing truly unique custom homes. That is when Cherry Bloom Homes & Designs was born. Karla has created and built this company to offer and execute an experience that would meet her high expectations. She builds each and every home as if it was her own. Our Clients are deserving of a fantastic experience and for their feelings and desires to be of the utmost importance. Having the ability to build a new home is a gift and we treasure being a part of the process.
View Gallery