New Home Designs, New Build Homes, and New Construction Homes for Sale in North Georgia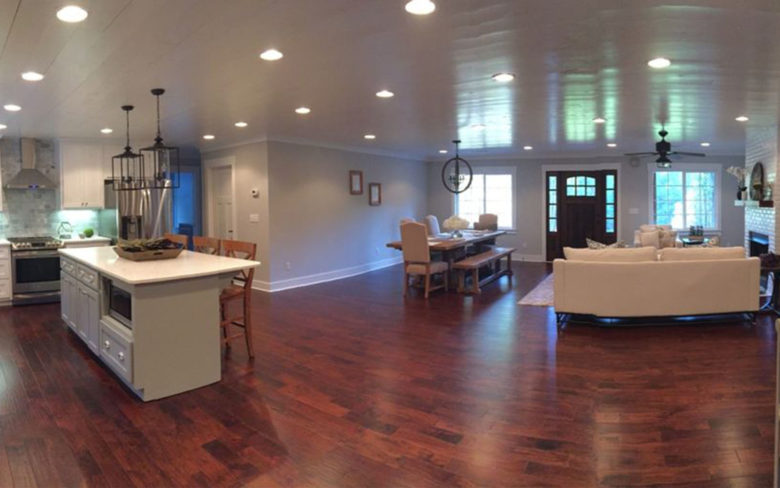 New homes are available throughout the North Georgia area in all types of designs and shapes. There are A-frames in the mountains, single story in charming towns or log cabins on rolling hills with lake views. But what if you want something that is a mix of all of them? Or, something completely different? That is exactly the benefit of new build homes – you get to design what you want. Whether you are looking for a lot in a planned community, on the edge of a town or in the mountains, you'll be able to build what works for you and your family. There are plenty of available lots in North Georgia with opportunities for new construction homes.
New Homes for Sale in North Georgia
Karla Payne Abercrombie of Cherry Bloom Homes has been working on creating new home designs for years. She is a local resident of North Georgia and infuses each of her new homes for sale with the custom southern charm she has been enjoying for herself into each design for years. She has found through her experience that people are generally looking for two types of homes when it comes to North Georgia.
The 'forever' home for daily living. Having the necessary space in your home is mandatory. A house will need to grow with you so there is no compromising on space. Also, the function is extremely important. Flow from the kitchen to the dining room, space for entertaining or doing homework while dinner is cooking and more. Enough bathrooms, bedrooms and play area to give everyone their space. And, don't forget about guest bedrooms and offices. If you finally do find new homes for sale that fit your needs, what about the design? Will it include the finishes your looking for? What will it cost, time and money-wise, to make a home into your dream home? This is where many people turn to new construction homes for sale. Just finding the perfect home is hard enough. Making it into your dream can be an additional cost to new build homes.
Mountain cabin. Maybe the mountain home will be your full-time home. Maybe it will just be your part-time getaway. Whatever it is, you deserve to own the home that represents what you are looking for. Mountain cabins can come in so many different styles – log, A-frame, traditional, modular, rustic and more. What if none of those fit you? What if you're looking for the modern space and feel but in a home that looks like it belongs in the mountains? This is what Karla does best – new home designs customized to you. Wooden beams across ceilings? Fantastic! Exposed wood trim? You've got it! Focal point fireplace? No problem.
Getting new construction homes in North Georgia is easier than ever. However, if you are looking for a truly custom built home that fits all your needs, lifestyle and wants, look to Cherry Bloom Homes to design your new, and forever, dream home.
Northern Georgia
Buying a new home in North Georgia can open a world of new opportunities to explore the Peach State such as the Georgia Wine Highway. Going through three counties, the Georgia Wine Highway provides a glimpse into the specialty wines of the state. Each wine region around the world has its own unique environment – terrain, soil, drainage, and elevation – and Georgia is no different. Even if you're not a wine drinker, you can try other winery samples including slushies and apple wine.